ABOUT US
Uni-farm's head office has located in Canada, Unifarm Team is manufacturing compound NPK, and supplying raw materials of Fertilizers, Agrochemicals for both local and oversea markets. Who are final customers of Fertilizers, Agrochemicals?---Farmers, whom Unifarm together with GROW. Also that, Unifarm has collected Farmers' Products such as Rice, Cashew Nut , Pomelo, Dragon Fruit, Coconut, etc for Export.
To meet the demand for serving agricultural customers better and more thorough, the leadership has decided to establish a sales channel in Vietnam in 2006.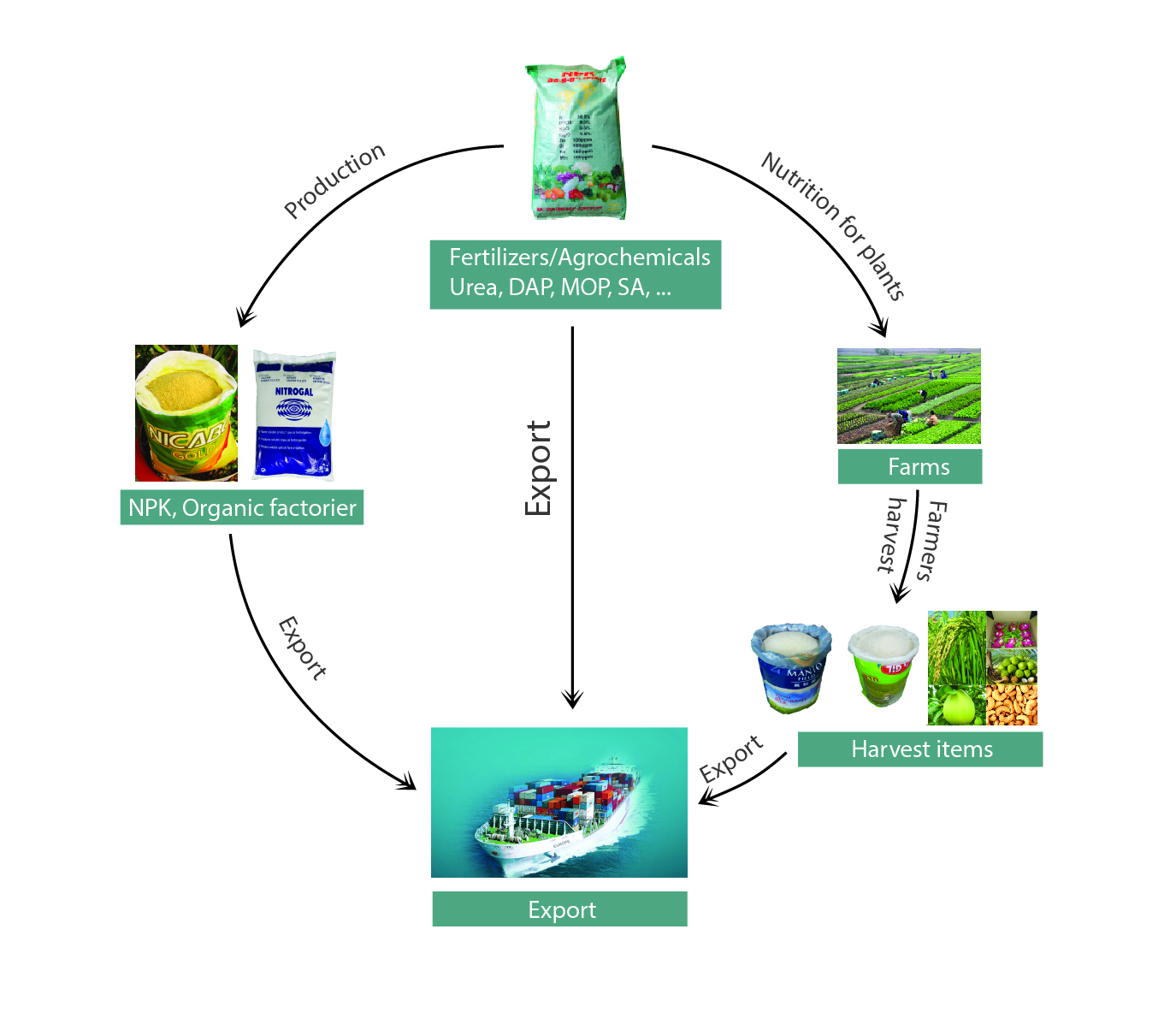 By the strong development of the parent company in Canada, the office has obtained solid reliability from domestic and oversea large production plants, a wide system of business partners in U.S., Canada, Germany, Belgium, Australia, South Pacific, United Arab Emirates, India, Japan, Korea, Malaysia, Singapore, Philippines, Taiwan, China, Sri Lanka, Thailand and Vietnam. The annual revenue increase is thanks to the support, trust and confidence of customers. In our first year of establishment, the office has sent outstanding staff to explore all the agricultural countries in the world to study and learn. Therefore, in the process of asserting themselves, Uni-Farm has always been one of the units with a certain position in the agricultural field. With our ability and experience, we are always looking for new products to meet the needs of customers, the evidence is that we own the product range of NPK-TeamFarm&trade, Basic-GroFarm&trade, Organic-GapFarm&trade, Regulator-WonderFarm&trade, Elements-MicroFarm™ have over 100 items of raw materials for production of Fertilizers, over 10 formulations for Agrochemicals, and over one hundred of Agriculture Products that Farmers harvest after using Unifarm's Products. In addition to that, we have been and will bring to market more products diversified in utility and features to reduce costs but always ensure the quality and style to match actual needs of customers. Our office is combined with the research center, the testing center to check the quality at the request earlier. During the past operating period we have attempted to develop the brand Uni-Farm, Uni-Farm has now become familiar with all business in Fertilizers and Agriculture Products.
We are aware that customers' interests are our interest. Uni-Farm always listens to your precious opinions. Operations of Uni-Farm are conducted with:
Clear and flexible business method: constantly learning, renovating, improving product quality, reasonable price.
After-sales service with a high sense of responsibility.
High spirit of cooperation, putting customers' interests in the first place.
Delivery time as committed.
Professional consultants replying to questions related to raw materials for production of Fertilizers and Agricultures.
We do sincerely thank our customers for your trust and support during the past time and are very pleased to co-operate with our customers.